I drive by the Craighaar Hotel regularly when visiting a friend in Dyce, always seen the sign but wasn't really aware of it. We decided to go in one day for lunch and boy am I glad we did. My partner and I headed in for a nice chilled lunch, the restaurant was nice and quiet, very relaxing and exactly what we were hoping for. It's so close to the airport but you wouldn't believe it, situated just off the main road it's in a nice quiet setting perfect for enjoying the outdoor seating area too.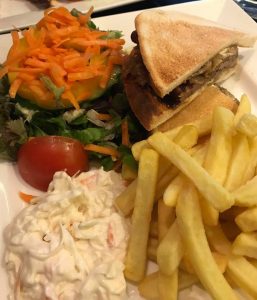 After looking at the amazing menu I settled for a hearty starter of Cullen Skink followed by the Bookmakers Sandwich, definitely made the right choice. A fantastically full sandwich accompanied by loads of salad, chips and homemade creamy coleslaw. I can't wait to try it again, just writing this now is making me want it again already. My partner opted for the Chicken & Chorizo risotto, another fantastic portion with loads of chicken and chorizo, certainly on my list to try another time.
Not only did the food taste amazing, the portion sizes were great, especially for the price. For two lunch dishes and two drinks, we were less than £25. Definitely worth the price for a delicious lunch in a chilled, relaxing setting.
I would most certainly recommend Craighaar Hotel, you all have to try it.