As you all know, I love a good castle, the story behind it – its history, the architecture and simply getting an idea of home people used to live. How different it is to how we live today; a castle ruin can tell just as much as a well-preserved castle. Where the castle is located can tell a whole other story too.
Aberdeenshire is home to many castles, from Dunnottar Castle on the coast of Stonehaven to Crathes Castle further inland, just outside Banchory which is still fully intact today. There is so much history on our doorsteps just waiting to be explored by all.
I recently visited Dunnottar Castle and had the most enjoyable experience despite the typical grey Aberdonian weather. Being located right on the cliff edge provides an amazing view out to sea, something that must be seen to fully understand its beauty.
I could spend all my time visiting and learning about our castles and understanding the people who would have lived in them. Having worked in events for a while Crathes Castle was a very popular destination for weddings which meant I got to spend a lot of my time there, both inside and out. The gardens are an experience of their own, the perfect setting for an outdoor summer wedding as many of my clients believed. Being able to visit the castle on a weekly basis certainly was a great way to spend the working day.
My top 10 must see castles in Aberdeenshire;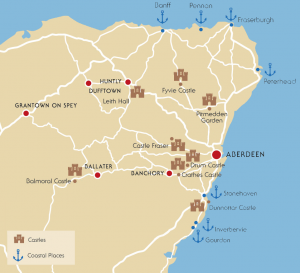 Dunnottar Castle
Crathes Castle
New Slains Castle
Balmoral Castle
Braemar Castle
Tolquhon Castle
Fyvie Castle
Huntly Castle
Castle Fraser
Drum Castle